Not much is know about this vessel, not even if it the body itself is of Vaillante design or not. The engine of the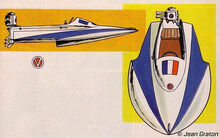 Vaillante Powerboat, however, most defintely is. It is implied that Henri Vaillant ordered the construction of these engines to spice up the French racing boat scene; winning the coming race is seen as secondary.
The boat is seen coming out under number 30 during the race for the John Ward Award in Monaco. All is well during the first day of the race, where pilot Michel Vaillant is able to steer the boat to a second place. During the next part, the day following, Michel foregoes his chances of winning, instead saving the life of fellow racer Paul Victor. During an accident at one of the old "Paris 6-Hours" races, where Michel lost consciousness, Victor would be able to repay the favor.
This vessel is one of two boats produced by Vaillante. Its successor is the Vaillante Class-ON.