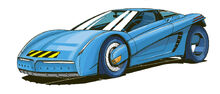 The Vaillante Xinq-Qiu is a Hydrogen car, produced as a joint effort between Vaillante and professor Zhuo. The car is remarkable in that it is the first car with a Hydrogen engine that can be serie produced.
Description
Edit
The Xing-Qiu, which roughly translates to Heavenly Body from Chinese, is a high-performance sports coupe. It's bodywork features some unusual design elements, like a bar that stylistically continues into the front wheels. The back wheels feature a spokeless design, with all the bearings being integrated in a toroid around the wheel. Finally, the Hydrogen is stored in a tank at the rear, in between the back wheels.
The technology used in the Xing-Qiu was later used in the Vaillante Rally used in the Orient Rally.
Appearances
Edit