Welcome to the Vaillante Wiki
Edit
Welcome to your number 1 resource about all things Vaillante! Whether you're here to gawk at the beautiful designs of the vehicles or just interested in the storyline, you'll find it here! Right now we're just setting up shop, so expect to see major updates in the coming months. If you have anything to add, please feel free to register and help out!
Michel Vaillant
Edit
From Wikipedia:
Michel Vaillant is the title of a French comics series created in 1957 by French cartoonist Jean Graton and published originally by Le Lombard. Later, Graton published the albums by himself when he foundedGraton éditeur in 1982. Michel Vaillant is the main character of the eponymous series, a French racing car driver who competes mainly in Formula One.
The feature first appeared in Tintin magazine, where Jean Graton had already published a number of short stories about real-life sporting heroes. The series appeared in Tintin between 1957 and 1976, in France as well as in Belgium. An estimated 17 million copies of the series' albums have been sold worldwide.
Latest activity
Edit
Photos and videos are a great way to add visuals to your wiki. Find videos about your topic by exploring Wikia's Video Library.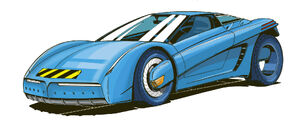 Community content is available under
CC-BY-SA
unless otherwise noted.