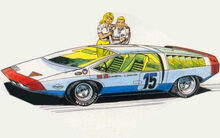 Specially produced for the Race of the Century, the Vaillante-Ford Rush proved to be more than a match for the competing vehicles of this rally across the America's. This Grand Touring car was made in a joint-venture between Vaillante and Ford. Its successor is the Vaillante Cevert, which shares some design elements with this model.
Pilots during Race of the Century
Edit
Car #14:
Car #15:
Specifications
Edit
Length: 4.30 meters
Width: 1.85 meters
Height: 1.18 meters
Power: 380 HP, 7.700 rpm
Top Speed: 290 km/h
4 independent wheels
2 un-inflated reservewheels in the front, space for two more in the back
Description
Edit
The Rush features an elongated nose, flowing over into the windshield. It's gull-wing doors feature large windows. The roof slightly slants downward, ending in a spoiler that tips out just barely. The whole roof aft of the gull-wing portion is transparent.