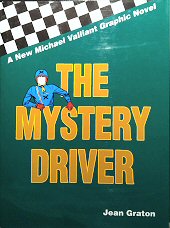 The Mystery Driver is the second album in the Michel Vaillant series, first printed in 1960. It was also the first to be translated to English, in 1997 (apart from the three 2007 translations[1][2][3]). This print was produced in a limited, Special Collector's Edition run of 3000 copies.
Dutch: De Gemaskerde Racer
French:  Le Pilote sans visage
German: Wettrennen mit einem Phantom
With a new racing season approaching, the Vaillant family is preparing itself for another exciting year. A mystery driver, however, is keen on making it a lot more than exciting...
Other Vehicles
Edit
References
Edit