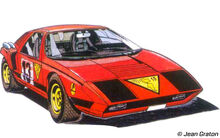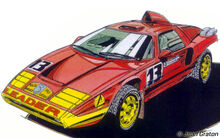 The Leader Marathon is a prototype that competed in the Race of the Century,[1]. Two cars of this type managed to survive the attack on the secret Leader Compound in Mexico by The Kamikazes[2] ten months prior. The cars were driven by Bob Cramer and Dan Hawkins. It was the direct competitor to the Vaillante Rush.
Somehow, to participate in a special race organised by Vaillante in Angoulême[3], Alain Dex was able to obtain one of these cars and compete with it during the Gran Tourismo round. Among its competitors were a Vaillante Commando and a Vaillante Rush, both being cars it raced against during the Race of the Century.
A while later, a modified version of this car shows up in the Hanoi - Saigon rally.
Note: The name of this car shows up for the first time in the datafile obtained by Ruth.
Appearances
Edit
References
Edit